Natural structures for your garden and allotment made from organically grown willows.
We weave a variety of shapes and sizes of plant supports and cloches for your garden or allotment. If you have a particular design in mind do contact us to discuss your idea and we will do our best to make this for you. Tree planters are a great way to hide ugly plant pots. Bear in mind that willow disintegrates over time when kept outside, especially through wet winters. We advise you to treat your structures annually with a wood preserve and bring them indoors throughout the winter.
suekirkwillowbaskets@outlook.com
Add height to your garden. Suitable for growing climbing plants such as sweet peas and clematis, or runner beans. Prices start at £28 for a standard 'banded climber' 6' high x 30cm diameter at the base. Prices for Spiral climbers start at £35 for a 6' high x 30cm diameter at the base. We can build climbers to suit your requirements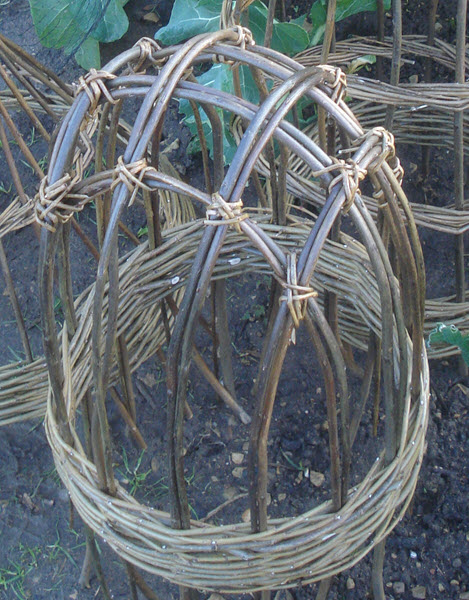 Cloches are great for supporting flowers such as peonies and dahlias . Prices start at £35 for a standard 65-70cm high cloche with a 35-40cm diameter base.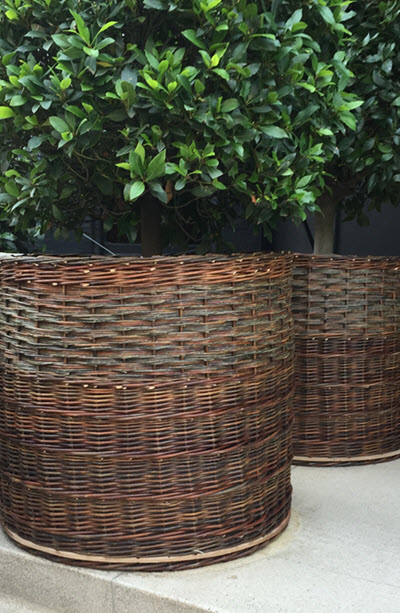 Tree planters can hide ugly pots and soften a space with natural colours of the woven willow. The planter has a solid base of marine ply. The walls of the planter are woven with home grown willows. We can make a variety of size planters to suit your requirements. Prices for a large sized tree planter as seen in the image above measuring 85cm wide x 90 cm tall £350.
We recommend all garden structures are treated annually with a wood preserve, such as teak oil or linseed oil. You can also prolong the life of your structures by bringing them indoors during the damp winter months. Delivery costs are not included in the prices above.